MBI Gallery: The Evolution of Incubation and Innovation
October 3, 2023 / blog
Incubation & Manufacturing Origins in Worcester: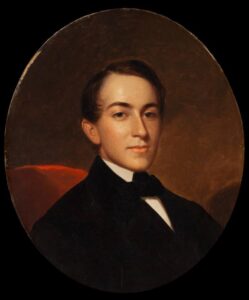 Stephen Salisbury III (1835-1905): The Salisbury family was one of Worcester's most dynamic and prominent families and played a major role in Worcester's evolution from an agrarian community to an industrial center. Stephen III helped manage the family's extensive properties and businesses. He was a Trustee of Worcester City Hospital and Worcester Polytechnic Institute. The Salisbury family owned factory buildings throughout Worcester that would be rented out to small manufacturers, not unlike MBI does with biotech startups today.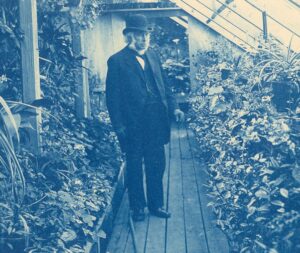 W.T. Merrifield (1807-1895): Local entrepreneurs Stephen Salisbury II and William T. Merrifield began to build factories and to rent space with power to new manufacturers. These factories were a major reason for Worcester's growing diversity as well as its climate of innovation. They made it possible for mechanics to go into business cheaply and created an environment that encouraged risk-taking. Many skilled workers took advantage of the opportunity to start small firms of their own after periods of training in local shops (Worcester Historical Museum).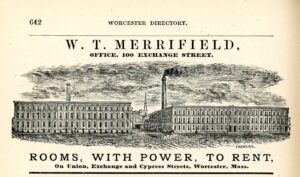 Worcester's First Incubator: An advertisement for steam powered spaces for rent. This incubation space is a model that is has spread across the city… and the Commonwealth.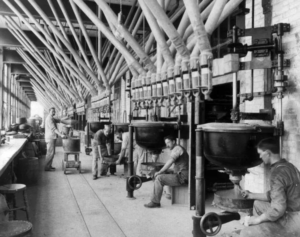 Norton Co. Manufacturing: An early photo of the world's leading manufacturer of abrasives. Norton also manufactured ceramic and plastic products used by the semiconductor, chemical, and petrochemical industries. Norton's long-running manufacturing reign shows the possibility for biomanufacturing in the region. Norton was bought by Saint-Gobain in 1990.
Worcester's notable inventions: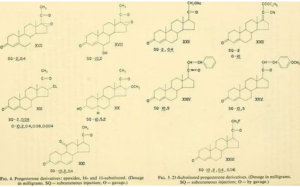 Enovid: This is a chemical schematic of the first hormonal birth control pill, which was created in Worcester. Although there were many pieces and contributors to the final product, it was first conceived of and created by Gregory Pincus and Margaret Sanger through the Worcester Foundation in Worcester, Massachusetts, and was distributed by Searle, located in Chicago. This technology is important to the history of embryology because it changed the way people viewed birth control and revolutionized women's birth control methods. (embryo.asu.edu)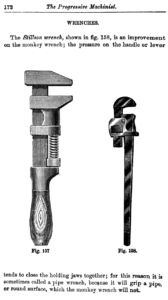 Monkey wrench: Loring Coes (April 22, 1812 – July 13, 1906) was an American inventor, industrialist and Republican politician who invented the screw type wrench, commonly known as the monkey wrench and who served as a member of the Worcester, Massachusetts City Council and Board of Aldermen, and as a member of the Massachusetts House of Representatives. The Coes Wrench Company was a tool manufacturing company based in Worcester, MA founded in in 1888.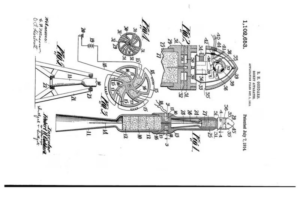 Rocket: Robert Goddard is widely known as "the father of the space age." He was born in Worcester, went to Worcester Polytechnic Institute, and earned his doctorate in physics from Clark University where he would go on to teach at. Edwin Aldrin, Sr., father of Apollo II astronaut "Buzz" Aldrin, was one of Goddard's students.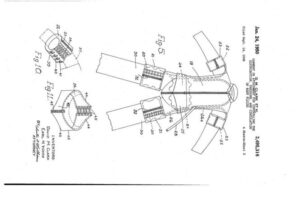 Anti-G Suit: David M. Clark (1903-1989) started David Clark Company with his father in 1935 to manufacture knitted fabrics. During World War II the company produced flight suits, and developed and manufactured the famous "anti-G" suit, which prevents pilots from blacking out when pulling out of high-speed dives.
Paving the way for MBI: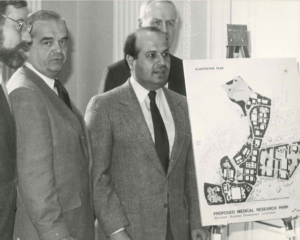 Proposed Research Park: MBI long-time board member and former Chairman, Abraham Haddad, standing with a proposed schematic of the proposed Massachusetts Biotechnology Research Park that is now home to AbbVie, Biotech's I-V, and the Reactory.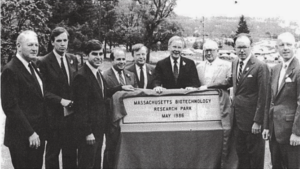 Park Commemoration: Champions for the Massachusetts Biotechnology Research Park surrounding a dedication stone.  The Biotech Park was the first dedicated biotechnology park in the Commonwealth.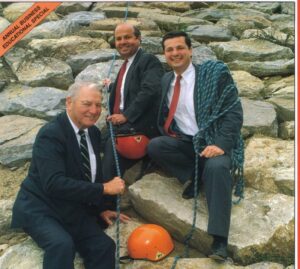 Climbing towards Success: Pictured are former MBI Chairmen Joseph Carter & Abraham Haddad, along with former President Mark Goldberg.
Early MBI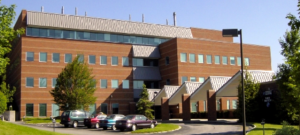 Innovation Drive: In its early days, MBI was located within Biotech I on Innovation Drive owned by Alexandria Real Estate.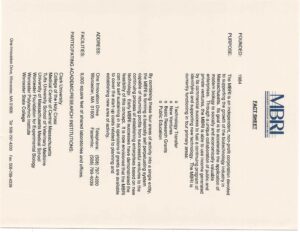 MBRI fact sheet: MBI used to be called "Massachusetts Biomedical Research Institute (MBRI)." MBI originally served as the Tech Transfer office for several area colleges and oversaw various licensing deals including Ilumina.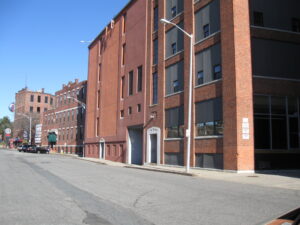 MBI Union St: Formerly the home to TSI and Charles River, the building had fallen vacant.  MBI was one of the first tenants in the building and helped encourage Biomere to occupy the building. The building is currently fully occupied by Biomere and Charles River.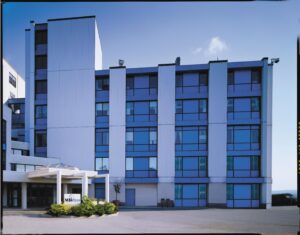 MBI Winthrop: MBI entered Winthrop Street after vacated by St. Vincent's Hospital. The facility was the birthplace of Blue Sky Biotech, a major MBI success story.
Government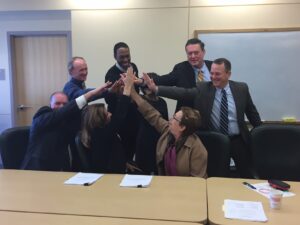 High Fives: After writing a white paper suggesting the creation of a Worcester Biomanufacturing Park, MBI Co-Chaired the Worcester Biomanufacturing Initiative with Lt. Governor Karyn Polito.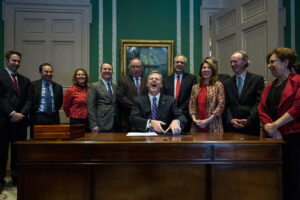 Governor Baker's Office: Governor Charlie Baker signs the legislation that would transfer 46 acres of surplus Commonwealth land to become the Reactory Biomanufacturing Park.
17 Briden Era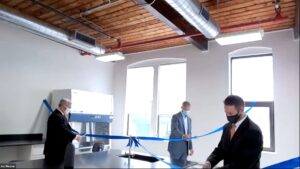 StartUp Center Grand Opening: Representative John Mahoney, MBI Board Chair Robert Anderson, and President & CEO cutting a ribbon to ceremoniously open the 17 Briden Street StartUp and ScaleUp Center.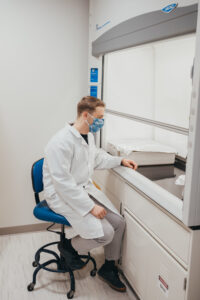 Science in Action: Pictured is an MBI startup employee at one of our fume hoods.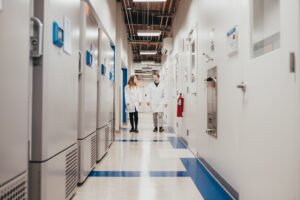 Freezer Alley: Two MBI startup employees walking down the StartUp Center hallway.
Economic Development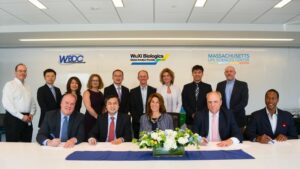 WuXi Signing:  WuXi signed on as the first tenant of the Reactory Biomanufacturing Park joined by members of the Worcester Biomanufacturing Initiative.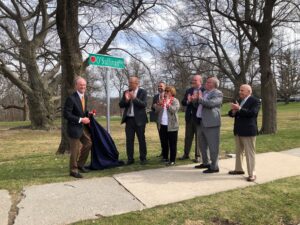 Street Dedication: Former President & CEO of MBI, Kevin O'Sullivan, was honored for his efforts in Worcester's biotech renaissance by having a street named after him in the Biomedical Park in 2023.
Workforce Development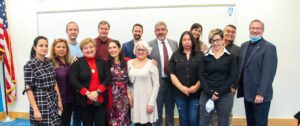 Biomanufacturing Technician Certification class: MBI with the first graduating class from Quinsigamond Community College's Biomanufacturing Technician Certification Program. QCC pulled students from their ESL program to teach them the fundamental skills for entry into the biotech workforce. This program was funded in part by MBI's Workforce Challenge Grants.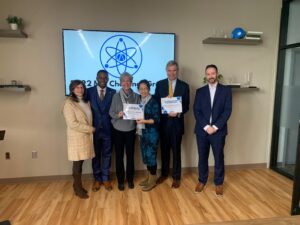 QCC Challenge Grant Awarding: Each year the Massachusetts Office of Business Development entrusts MBI with money to steward for efforts in diversifying STEM and building the regional biotech workforce. Pictured here is Quinsigamond Community College receiving an Increasing Diversity in STEM Grant for their young student programs and a Workforce Challenge Grant for the creation of a cell culture module addition to their Biomanufacturing Technician Certification Program.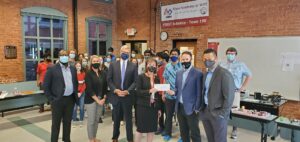 Investing in the Future: Pictured is Representative John Mahoney and the MBI awarding the Massachusetts Academy of Math and Science funding for their student programs that train the next generation of innovators and entrepreneurs.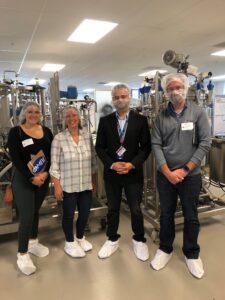 In the Field: Pictured are Jon Weaver and Melina Reid with two AbbVie employees for a tour of the AbbVie facility in Worcester. MBI and AbbVie work closely together to solve for workforce gaps and build the regional BioCluster.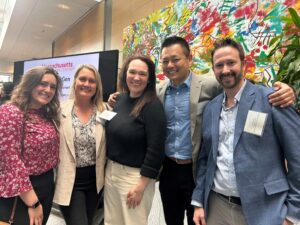 Supporting Startup Success: In this photo, the MBI team attended a Massachusetts Life Science Center ceremony in honor of their MassNextGen initiative that focuses on supporting and empowering female entrepreneurs and underserved communities in the life sciences field. One of MBI's own companies, Jura Bio, was a part of this program. Jura Bio Founder & CEO Elizabeth Wood represented her team at the event held at Takeda in Cambridge in 2023.
MBI Fun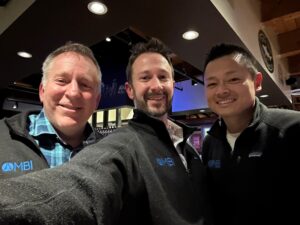 Three Amigos: MBI Board Clerk, Charles Kunsch, wears an MBI jacket alongside Jon Weaver and Zu Shen.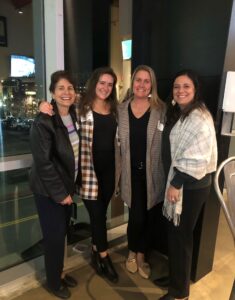 Ladies of MBI: MBI employees Karri Freeland and Melina Reid take a photo with MBI Board of Trustees members Gail Radcliffe and Liz Leveille.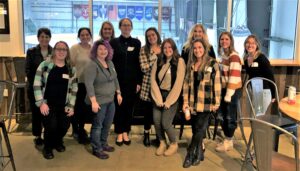 Women in Bio: In fall of 2022, MBI and Women in Bio of Greater Boston teamed up for a networking mixer at Baystate Brewing Co. in Worcester.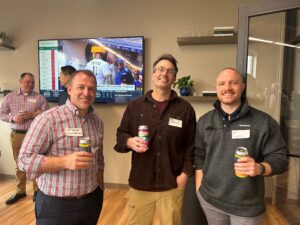 Beers & Peers: MBI hosts quarterly Beers & Peers events meant to bring together the scientific community of Central Massachusetts and beyond.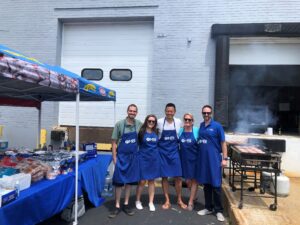 Serving up Smiles: Picture is the 2022 MBI team at our MBI Startups Annual Summer Cookout.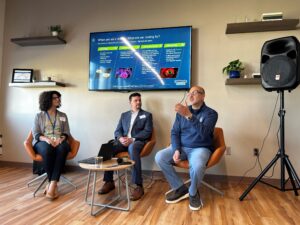 Bayer Office Hours: As a sponsor, Bayer hosts regular office hours at MBI for the benefit of our companies. These interactions help foster relationships between early-stage startups and big pharma.
A New Era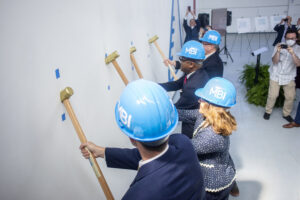 Breakthrough: On May 25, 2022 the MBI and Massachusetts Life Science Center ceremoniously broke through the wall in our 17 Briden Street warehouse in preparation for building the new MBI pilot Biomanufacturing Center.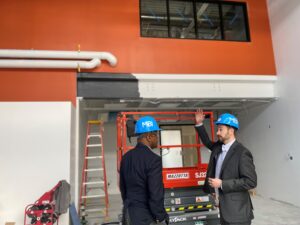 Planning the Future: Pictured is Jon Weaver speaking with MLSC's President & CEO Kenn Turner about the future of MBI's newest center.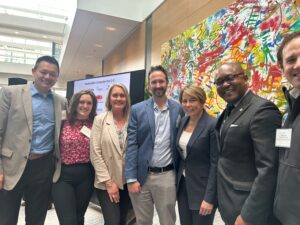 Governor Healey, MLSC, & MBI team: Pictured is the MBI team with MLSC President & CEO Kenn Turner and Massachusetts Governor Maura Healey at the MassNextGen ceremony in 2023 held at Takeda in Cambridge.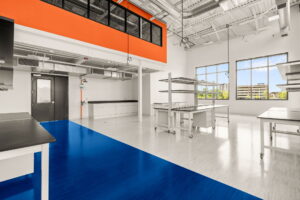 Manufacturing lab: Pictured is the final product of our 17 Briden Street pilot Biomanufacturing Center, where we can home up to 10 more startups looking to go from concept to clinical trials under one roof. The tall ceilings and movable casework in these labs allow for the use of portable clean rooms, large bioreactors, and other manufacturing equipment.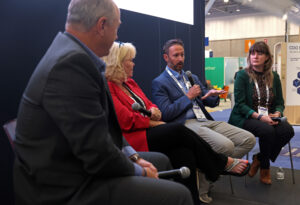 BIO: Pictured is Jon Weaver on a panel at the 2023 International BIO Convention in Boston centered around the resources that Central MA has to offer to startups and industry alike.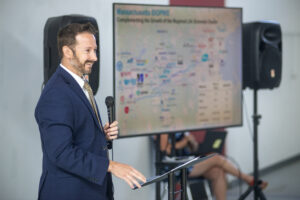 BioPike: Jon Weaver gives a speech about the "BioPike" connecting Boston and Worcester, saturated with biotech companies at MBI's pilot Biomanufacturing Center groundbreaking event.